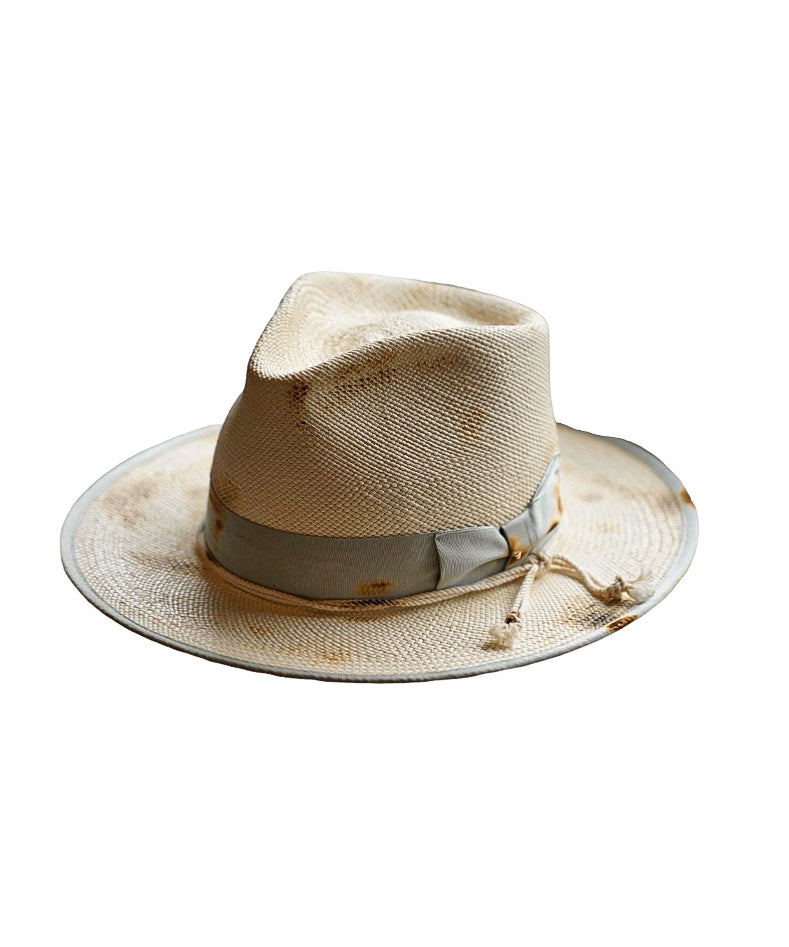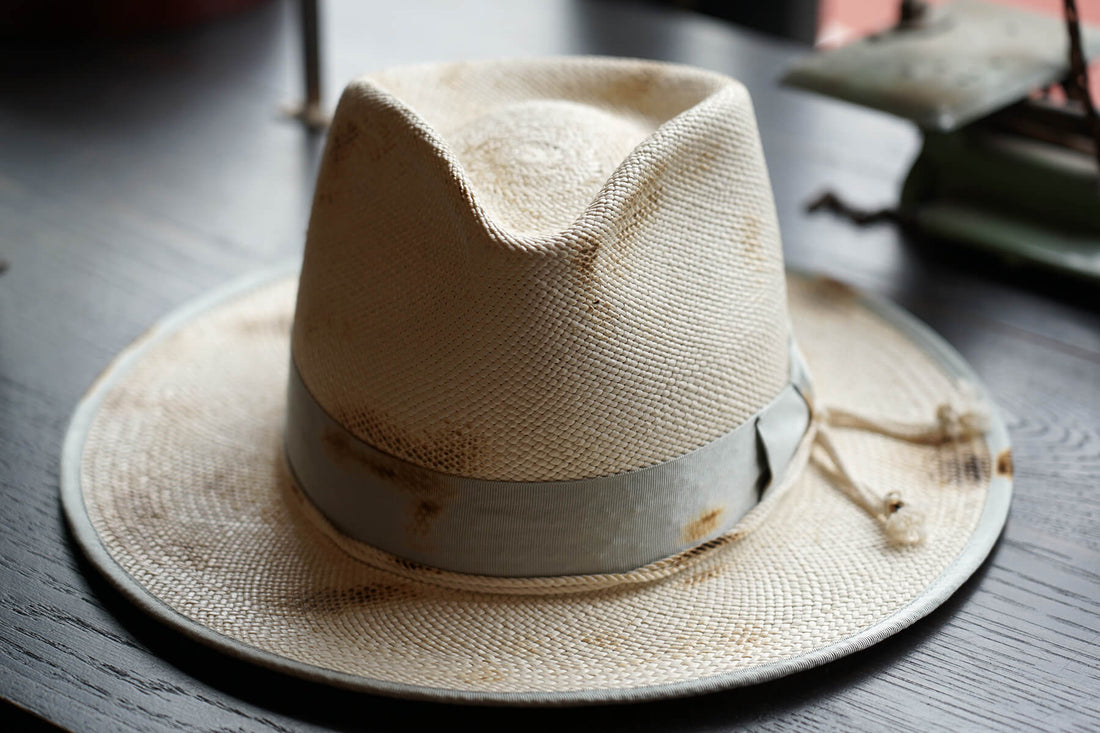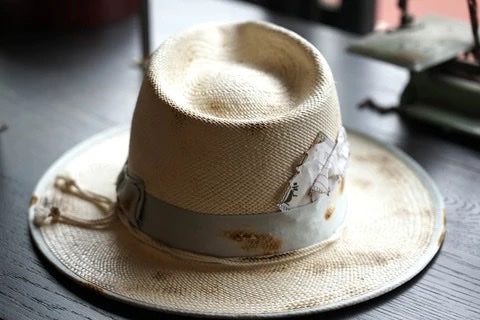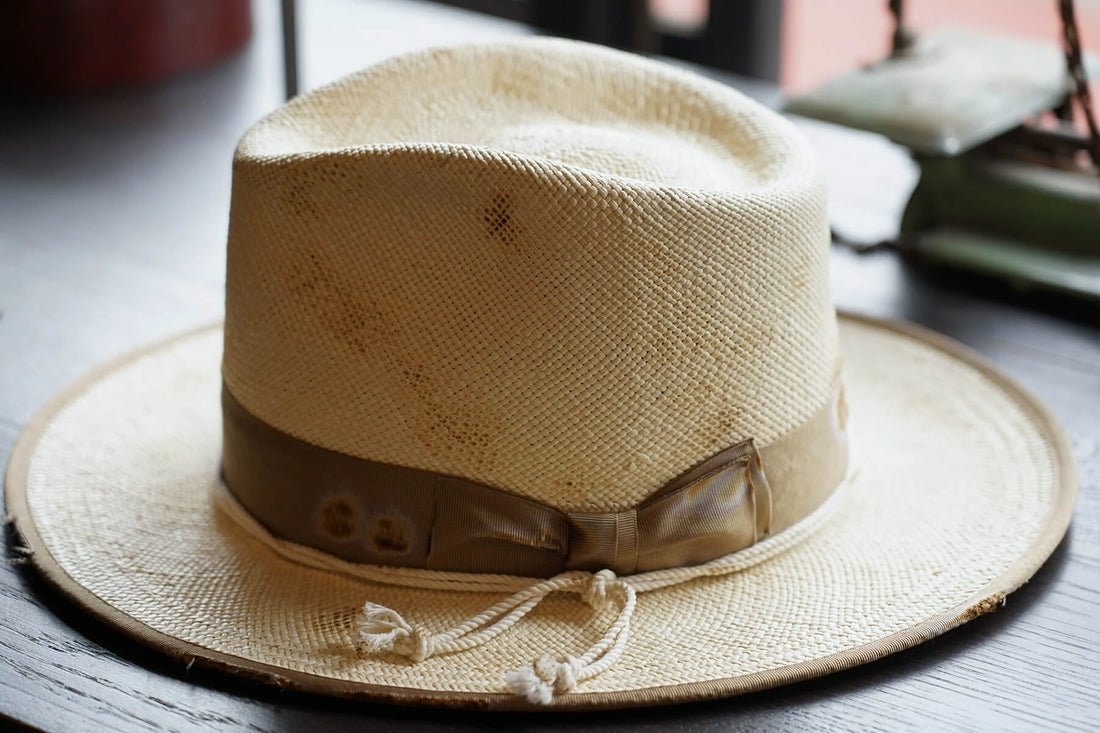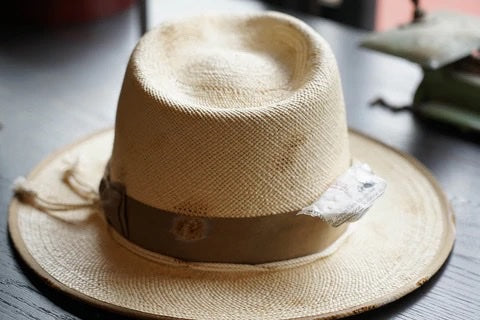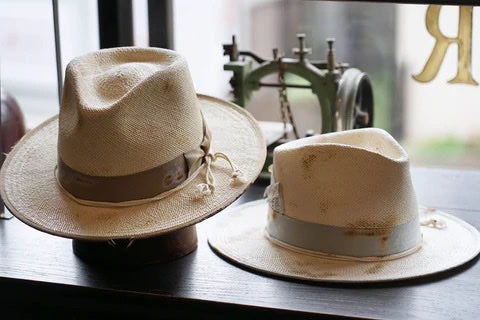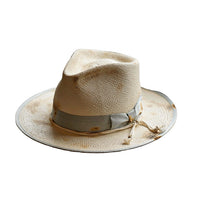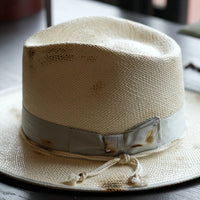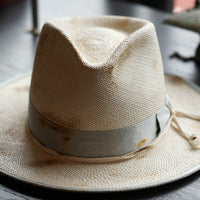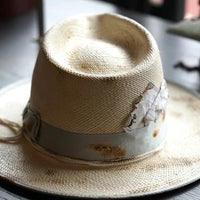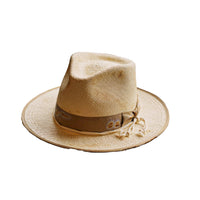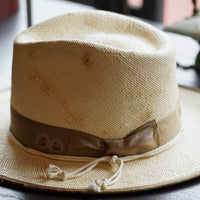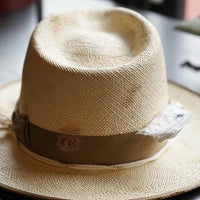 * If the hat is a custom order (C/O), the hat is made after your initial order is placed. Please allow us 30 days for the hat to be made.

[DESCRIPTION]
*Genuine Panama hats are known for their lightness, durability, flexibility and comfort.
The quality of a Panama hat is measured by the tightness of the mesh.
The amount of straw fibers woven in one square inch is called grade and it identifies the quality of the hat.
The higher the grade, the higher the quality of the hat.
 
Made of G-3 (Sub Fine) Panama, JAY is THE FAT HATTER'S one and only Panama signature model that undergoes a process of being distressed.
Proudly crafted at THE FAT HATTER, the toquilla straw fibers used to create JAY is pressed and steamed over our original wooden (hat) block. The crown is then shaped and tightly formed.
JAY, then undergoes a process of  being lit on fire, and for additional distress, is also burned  using a burner.
This process gives each individual hat its  very own unique markings.
With the crown height standing at 11.5cm, and the brim width at 7.5cm,
this model features a vintage-like silhouette, which accentuates its timeless style. 
Topped with a 38mm grosgrain ribbon and a rope-cord .
If you are looking for a unique panama with a  rugged finish, look no further.
※THE FAT HATTER Original HAT BOX included.  No extra charge.
[MATERIAL]
NATURAL TOQUILLA STRAW   
[GRADE] 
G-3 (SUB FINE) 
[COLOR]
NATURAL, WHITE
[SIZE]
55cm / 56cm / 57cm / 58cm / 59cm / 60cm / 61cm / 62cm
※Currently, all sizes will be treated as a custom order (C/O).  
* If the hat is a custom order (C/O), the hat is made after your initial order is placed. Therefore, we ask customers for 30 days for the hat to be made. NOTE: these are estimated wait times and are subject to change. Please allow an extra week or two if needed.
[ DETAILS ] 
CROWN HEIGHT  11.5cm
BRIM WIDTH    7.5cm
HATBAND/RIBBON 38mm
BOUND EDGE 18mm(9mm FINISH)
SWEATBAND   GENUINE LEATHER

NOTE:
*Distressing varies. 
*All though very subtle,
the hat may give off a burnt smell due to the distressing process.
*Slight variations are to be expected and are beyond our control.